March 20th, 2020
Things are changing daily, and the majority of the world are at home. For many freelancers that means no work, and for many photographers that means they barely have any means to make income. Here's a part 2 in a series of uplifting blogs to introduce you to some of the best photographers in the world.
UK/EU
Kimberley Ross // Rome+Milan, IT
Being able to adapt to work in many different scenarios as a photographer can be incredibly challenging but Kimberley makes it look easy. Whether it's dreamy portraits or edgy live shots, I adore Kimberley's work.
Ellen Offredy // Manchester, UK
I've always admired the way Ellen makes her artists look so comfortable in front of camera, especially in her behind-the-scenes shots. A bit of an all-rounder, Ellen produces stunning work, whether it's album artwork, portraits, behind the scenes or of course, live.
Lucy Foster // Dublin/London
If there is anyone who can document a tour, it's Lucy. Working alongside Dermot Kennedy, her work is a near of extension of his music, and I know that's something music photographers thrive to achieve. Beautiful, moving photos.
Tom Pullen // London, UK
Tom's unique style of photo/video is ridiculous. His video recaps on tour are incredible; he has that insane ability to document the most energetic moments, and make you feel like you were there. His work always continues to blow me away.
PRINTS // INSTAGRAM // WEBSITE

Ami Ford // Nottingham, UK

A multi-talented creative, Ami's warm-toned photos are beautiful. Her outdoor portraits are always stunning and I love checking out her wedding work too.
Cameron Brisbane // Glasgow, UK

Super bold, clean and simple, I love how Cameron captures the Glasgow music scene. With a good mixture of colour and black and white, he always gives a great essence to the show he's shot.
PRINT STORE // INSTAGRAM // WEBSITE
CANADA
Karyssa Leigh // Calgary, AB
Dreamy, sparkly cool-tones is the best way I could describe Karyssa's beautiful work. It's cinematic and theatrical and her artistic talent is beyond music. Her portrait work is stunning.
Jenna Hum // Toronto, ON
Constantly photographing fast movement in both music & sports, somehow Jenna always nails "the moment", and does so while always maintaining her own vibrant style.

USA
Penelope Martinez // Chicago, IL
A multi-talented photographer/artist who I've followed for a long time! I love how she is so experimental and has such an eye for details. Her work is incredibly emotional, and always makes me feel something.
ONLINE STORE // INSTAGRAM // WEBSITE
Anam Merchant // Chicago, IL
Creating some of my favourite moody photos+videos, Anam's bold work always inspires me. One of the best out there, for sure.
Aysia Moretta // New York, NY
Aysia pushes the boundaries for creative expression in music photography - never limiting herself and using several mediums including video & film to create genuine moments.
PRINT STORE // INSTAGRAM // WEBSITE
Adele Sakey // New York, NY
Adele's work is atmospheric, she understands light so well and finds beautiful moments within music and other elements of her work, whether it's portraits or landscapes.
Roger Ho // Austin, TX
A content machine, Roger always manages to let us feel the atmosphere of the festivals he's shooting (and he shoots A LOT). He's able to switch between the intimate & energetic moments so well.
PRINTS // INSTAGRAM // WEBSITE
Ana Massard // Tampa, FL
Ana's work engages all of your senses - you can really feel/smell/hear the concert she shoots. 
Sofie Milton // Texas
Sofie's photos give me an 80′s/90′s vibe - something about them that make you feel super nostalgic which is a really cool. 
Skyler Barberio // Los Angeles, CA
Skyler has the ability to somehow capture so much energy in every concert she shoots, which can be insanely difficult. She makes it look easy. I particularly love her wide angle shots.
Nicole Solero // Orlando, FL
Nicole can do it all. The pastel tones across all of her work is warm and dreamy, creating romantic imagery across her photos + illustrations.
PRINT STORE // INSTAGRAM // WEBSITE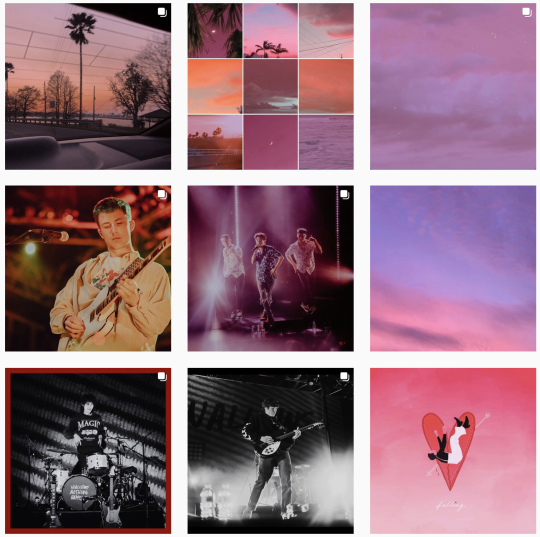 Meg Meyer // Los Angeles, CA
A storyteller with her stills, Meg's work is beautiful, emotional and always feels honest. Her vibrant, high contrast edits always work perfectly alongside her style of shooting.
Danny DeRusso // New York
Washed out, vintages vibes of some of your favourite underground bands. He makes shooting in a packed, sweaty tiny venue look easy (it's not)
Beth Saravo // Los Angeles, CA
Beth's (@baeth) photos are SO crispy. Between her stunning portraits (where each artist always looks incredibly comfortable - creds to the photographer) and all of her live work, Beth is one of the most versatile photographers that I look up to.
Christian Sarkine // Indianapolis, IN
Warm and surreal is the best way I can describe Christian's work. I love the glossy feel to his photos and pretty much every image he produces blows me away.
PRINT STORE // INSTAGRAM // WEBSITE
AUS
Zennieshia Butts // Brisbane, QLD
One of those amazing photographers who executes "the moment" as well is being technically perfect. I'm jealous. Her images are simple, yet powerful.
PRINT STORE // INSTAGRAM // WEBSITE
Ruby Boland // Sydney, NSW
Ruby creates MAGIC, it's the only way to describe it. Her photos are so eyecatching and vibrant, I'm always exciting to see what she'll produce next.
Georgia Moloney // Sydney, NSW
Georgia is an artist, creating mixed media collages that are beyond just live photos. She creates unique pieces with glitter, patterns, sequins and more to create a style like no one else.
ONLINE STORE // INSTAGRAM // WEBSITE