March 15th, 2020
We're currently facing a world crisis unlike we have seen in a generation. Due to shutdowns of pretty much all normal life, the music industry has completely shutdown touring. Festivals and tours all over the world have been cancelled, and the loss of income to all of those connected to that industry will be devastating. 
This is my very small attempt at trying to help out some of my favourite photographers, nearly all of whom are affected by these shutdowns. I've tried my best to link to all their print stores, instagram and websites, but if there are direct ways you want to help them, please reach out. Give them a follow. Share their posts. Tell them how amazing they are. Spirits are low right now, and boosting someone's spirits is one of the best things we can do to get through this.
We're all in this together. I hope you discover your new favourite photographer.
UK/EU
Bethan Miller // Cardiff, UK
Bethan Miller is a Cardiff based photographer who works within music, event and wedding photography. I've followed Bethan's work for years, and seeing her come as far as she has, and being a full-time freelancer is incredible. She tours regularly with rising UK band Holding Absence, and her work with them truly captures their moody-vibe. 

PRINT STORE // INSTAGRAM // WEBSITE
Corinne Cumming // London, UK
Best known as 'Captured by Corinne', one of the music industry's NICEST humans on the planet, London based Corinne is also an incredible photographer, from her work with Rock Sound with some of your favourite bands, to her unmatched stunning studio work with Drag Queens. I feel so proud when I see her work - we would often share the pit together when we were newbies and now she's a full-time photographer and owner of her own studio, Hot Dog Studios.
Isha Shah // London, UK
Honestly, a true legend. Isha's work is so vibrant, innovative and quite genius. She's able to work with a range of artists and musicians, and also inspires other creatives with her creative collective, Platform London. Never afraid to speak up, Isha's no BS attitude makes her so unique, and honestly my feeds would be way too quiet without her. 
Jennifer McCord // London, UK
Finding beauty in the minimal, Jenny's work is emotive in the way she photographs some of the most delicate moments, no matter whether she's shooting live music, portraits or weddings. Seeing her grow from shooting hardcore shows to working with Ellie Goulding, Jenny is IN DEMAND, and there's a reason why.
PRINT STORE // INSTAGRAM // WEBSITE
Phoebe Fox // London, UK
It blows me away that Phoebe (SHOTBYPHOX) is only 22. She has toured with artists such as Anne Marie, SWMRS, Anteros and The Amazons and is a powerhouse of beautiful content. Her work is clean, bold, and simply stunning.
Zac Mahrouche // London, UK

Zac shoots a lot of live music, but also creates some really beautiful editorial/fashion photos. I can always look to Zac's work for inspiration, and I love the way he presents his work across socials.
Doug Elliott // Brighton, UK
The moody cold tones of Doug's work make it really atmospheric and cinematic. It's been amazing to follow Doug's journey over the years and see him work with artists such as Against The Current. 
Martyna "Gingerdope" // Stroud, UK
One of the most unique viewpoints in music photography come from Gingerdope. She captures some of the most delicate, overlooked moments on tour, and has introduced me to some of the UK's best indie bands. 
Ellie Mitchell // UK
Ellie is a machine, and seems to be always touring! I admire how she works within particularly male-dominated genres and has become one of the most consistent music photographers out there. 
Arne Desmedt "CardinalsMedia" // Antwerp, Belgium
I've followed Arne's work for a while, and he always delivers stunning, dynamic live photos across multiple music genres. His portfolio is an endless stream of incredible shots.
Sarah Louise Bennett // London, UK
Another amazing woman working in the music industry, and killing it with every shoot she does. Sarah is so hardworking, producing stunning covers/features for Upset & Dork magazines and continuously setting the bar high. 
CANADA
Brandynnleigh // Calgary, AB
One of THE most creative photographers out there, I love the concepts and essence of her work; there's a story within every photo and there's a vintage feel to them that works perfectly. Brandynnleigh is based in Calgary and shoots live music as well as portraits, conceptual projects and landscapes.
Lindsey Blane // Vancouver, BC

Ok, I'm biased, because Lindsey is one of my closest friends but also a ridiculously talented human, a bit of a workaholic and someone who gives every project 110%. When we met, we were both working at a camera store (in different locations) and she stalked me on Instagram and messaged me on Christmas Day 2016, and within weeks she was sleeping on my sofa a couple times a month, so she could come over to Vancouver from Victoria and shoot some shows/build her relationships with artists. It's paid off and seeing her work with some of the biggest artists in Canada is mindblowing.
PRINT STORE // INSTAGRAM // WEBSITE
Brandon Dacosta // Toronto, ON
Brandon works with a range of indie artists including Canadian bands Bearings and Belmont. His work is so energetic and he checks off everything live music photography is all about. Brandon always delivers stunning content, and as a photographer who tours so much, he will need as much support as possible!
PRINT STORE // INSTAGRAM // WEBSITE
Shayla Lee // Edmonton, AB
A multi-talented incredible human, Shayla has continued to develop her own unique style and approach to her work, particular with electronic and EDM acts. We were introduced by Lindsey Blane (she threw us all in a car and took us to Bumbershoot) and have been great friends since. Shayla is also a writer and runs her own blog, Femme Riot. She attends more festivals than I knew existed and creates weird and wonderful photos/collages. 
INSTAGRAM // WEBSITE // FEMME RIOT
Timothy Nguyen // Vancouver, BC
One of the most humble, kind humans I've had the pleasure of calling my friend. Having road-tripped down to Seattle for Warped Tour and Bumbershoot, Tim is always so much fun to be around, and you can always lean on him for advice. An amazing photographer with a big heart, you'll see him catching no sleep and shooting 5 gigs in one night. 

Kelli Anne // Vancouver, BC
My favourite Kiwi, and potentially one of the funniest people I know, Kelli has come a long way since she started taking photos on her phone at concerts. She is now one of the most consistent live music photographers, continuously producing incredible content. Her portrait work is always STUNNING and I'm jealous of how she achieves those warm dreamy tones.
PRINT STORE // INSTAGRAM // WEBSITE
Bailey Morgan // Vancouver, BC

I've only known Bailey a short amount of time, but she is slowly becoming one of my favourite photographers. She has a heart of gold and creates beautiful visuals, working mainly with music, portraits and families. She recently set up Rebel Gal Creators, a collective of womxn photographers.
INSTAGRAM // WEBSITE // REBEL GAL CREATORS
USA
Heather Hawke // Los Angeles, CA
Heather is more than just a photographer. She works within the music industry in PR, runs her own magazine - Decorated Youth and writes thoughtful articles and interviews. She also has really great taste in music. She's a hard-working powerhouse, and a wonderful human. Support her work!
INSTAGRAM // WEBSITE // DECORATED YOUTH
Sara Feigin // New York, NY
I met Sara at a gig in London waaaaay back. She moved back to the States, where she is currently working as a photographer and writer. Her artist portraits are among my favourite, and she continues to blow me away with her consistency.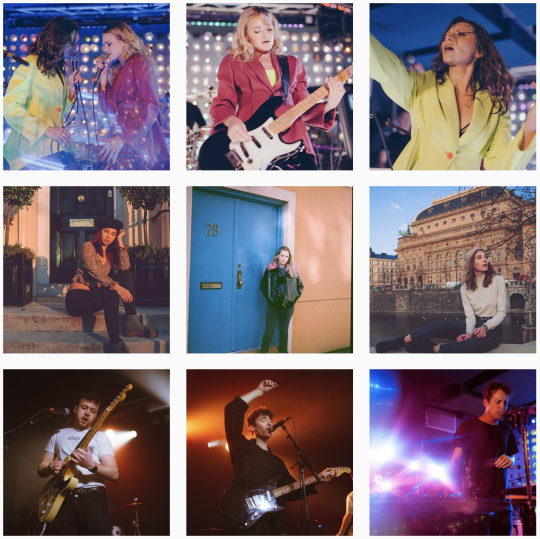 Kaytlin Dargen // Fargo, ND
I know her as 'kaydargs', I've loved her work for so long. She has such a unique style and perspective, always putting out incredible work. She works with lots of bands, and I loved her recent album cover for Hot Mulligan. A true artist, and a big inspiration of mine.
PRINT STORE // INSTAGRAM // WEBSITE
Carter Howe // Los Angeles, CA
Carter's work feels like a movie - dramatic and emotional. I love how her photos are so well executed, and how she finds beauty in the ordinary. 
PRINT STORE // INSTAGRAM // WEBSITE
Alyson Coletta // NJ
A live-music photographer who's work continues to always make me feel like I was at the concert she shot. She always captures 'the moment' whether it's an arena or tiny sweaty show. Message her to buy any print off her IG/website!
Maggie Friedman // New York, NY
One of the most active music photographers, she's probably shot at least five of your favourite artists. Minimum. A content-machine, Maggie's work is always outstanding. You can buy a print buy messaging her!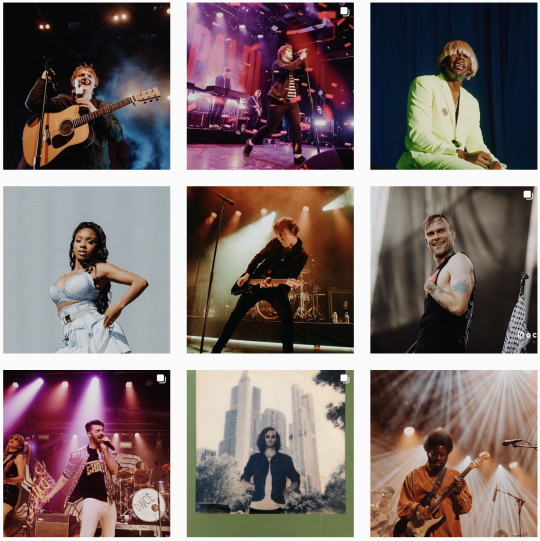 Melodi Ramirez // Austin, TX
A versatile photographer, often switching between bad-ass live music and strong bold portraits.
Cina Nguyen // Washington, DC
Known as her handle 'ilikeyourface' on IG, Cina creates art-pieces with her surreal, dreamy photos. I could honestly look at her work all day. 
Victoria Sanders // Chicago, IL
Victoria Sanders does't just photograph concerts - she's an advocate for pushing for more women in music, and cofounded The Photo Ladies, bringing together a community of women around the world who work in music. Oh and she takes amazing pics, of course.
PRINT STORE // INSTAGRAM // WEBSITE 
Gina Scarpino // New York, NY
Inspirational portraits & live music photos, Gina's got a real eye for visual concepts, and I always admire how well she executes all of her work.
PRINT STORE // INSTAGRAM // WEBSITE
Natalie Somekh // Newport Beach, CA
Natalie has a vintage feel to her portraits + live music photos which are super dreamy. Message her for prints!
Kat Nijmeddin // Los Angeles, CA
Kat is a photographer/designer who works with Pure Noise Records. I really love how energetic her photos are, yet her tones are soft and pastel colours which create a really cool style.

PRINT STORE // INSTAGRAM